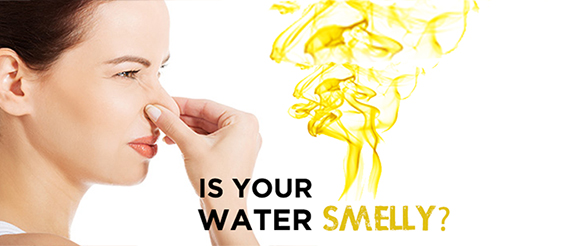 March 23, 2016
If you experience a rotten egg smell when you turn on your faucet, about to take a sip of water, brush your teeth or shower chances are your water contains Sulfur (Hydrogen Sulfide).
In North Florida the Rotten Egg Smell in Water can be Due To:
An abundance of Sulfur gases, caused by the natural decomposition of vegetation. If you are experiencing this form of Sulfur your well water is likely influenced by a swampy area
A living organism called Sulfate Reducing Bacteria feeding on Sulfates in water, producing the foul odors
Although, Sulfur does not usually pose a health risk at the concentrations found in our North Florida water, it can cause more trouble than meets the eye…or in this case, the nose.
Effects of Sulfur on Items & Appliances in Your Home
Sulfur in water corrodes plumbing metals such as steel, iron, copper and brass. It discolors brass and copper utensils, and tarnishes silverware and silver jewelry. Sulfur causes stains (from yellow to black) on kitchen and bathroom fixtures, sometimes even laundry.
Beverages such as tea, coffee and juices made with water containing Sulfur typically have an unpleasant taste and odor. Sulfur in water also negatively affects the quality of cooked foods.
In some instances precipitated Sulfur produces soot like material which turns water black.
Sulfur in your Water – What to Do Now?
Don't worry, now that you know what causes the bad smell and taste in your water the solution to your problem is one phone call away.
Contact us today and one of our  highly  trained Water Specialists will test your water and recommend water treatment options based on Sulfur concentration and the presence or absence of other contaminants.
Gainesville: (352) 372-2707 – Ocala: (352) 369-1707 – Toll-Free: (800) 516-8962
Or Email us: info@BestWaterSolutions.com
You can also complete the form on http://bestwatersolutions.com/free-water-analysis and a member of our team will contact you to make an appointment at your earliest convenience.