If you are interested in exploring any of the career opportunities listed below, please complete the form and indicate the position desired. We will get back with you shortly with an application via email. For further questions, please contact us by phone:  (352) 372-2707.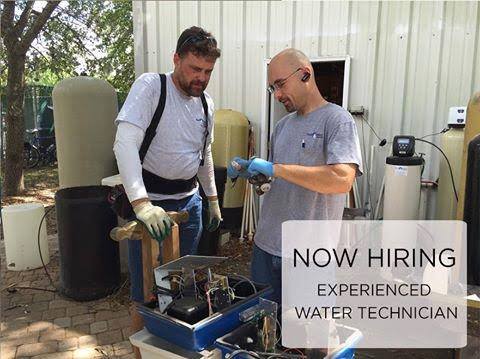 Water Treatment Technician
Best Water Solutions (BWS), based in Gainesville, Florida, is a rapidly expanding, family-owned company that has been a successful market leader in the Commercial and Residential Water Treatment space in North Central Florida for the past 35 years. Best Water Solutions is looking to expand their Service Team by recruiting experienced Water Treatment Technicians who have a minimum of five years of experience working for a reputable company in the water treatment industry.
Preference will be given to potential employees who already have their Water Quality Association (WQA) Certified Installer certification. For successful candidates who do not yet have that certification, Best Water Solutions will require that they get their certification after being hired. Best Water Solutions will pay for WQA certification and any additional continuing education, ensuring that all employees are familiar with the latest industry trends and technologies. A focus on this round of hiring is for individuals who have extensive experience and knowledge of residential water treatment systems. The ideal candidate will also be articulate, respectful, well-groomed, customer service oriented, have an attention to detail and a desire to further build their career in a dynamic and rapidly developing industry/ company with room to grow and improve professionally. Must be able to move 100 lbs occasionally and lift and carry 80 lbs regularly. A Florida driver's license and good driving record is needed. Background check and references are also required.
Job Skills and Requirements
Job Type: Full-time
Required education:
High school or equivalent
Required experience:
Installation & Repair of Residential Water Treatment Equipment: 5 years
Required license or certification:
Prefer several years of experience in one or more of the following areas:
Electro-mechanical service and repair
Plumbing, Electrical, Irrigation, Swimming Pools
Desire to learn and grow professionally in a dynamic work environment
Willingness to become a Water Quality Association (WQA) Certified Installer
Ability to understand and follow written and verbal instructions
Attention to detail
Honesty and integrity
Good people skills
Flexibility and positive attitude
Good eyesight and color perception
Neat, clean appearance
Able to move100 lbs occasionally and lift and carry 80 lbs regularly
Florida driver's license and good driving record
Job Description and Procedures:
Reports to Service Manager
Essential Job Responsibilities:
Follow good safety procedures when working with electricity, ladders, lifting, etc.
Install, troubleshoot, and/or service water treatment equipment including: softeners, conditioners, filters, chlorination systems, reverse osmosis, ozone, and UV systems, etc.
Perform routine preventive maintenance on water treatment equipment
Troubleshoot and repair control valves, pumps, flow switches and other water related devices, electro-mechanical and or electronic controlled devices
Stage and execute installation and service jobs
Deliver salt, potassium, chlorine, etc.
Perform basic water testing on site
Pick up and deliver water samples according to authorized procedures
Maintain awareness of materials and supplies
Communicate and shortage of parts and supplies to supervisors/ordering personnel
Pick up supplies needed for jobs
Call supervisor with questions or for assistance in resolving problems encountered
Communicate with techs from suppliers and/or manufacturers when needed
Keep work area and truck neat, clean, and orderly
Other duties as may be assigned